Completeness, dynamics, clear concepts, stability and intuitive usability are just some of the numerous advantages of our IT workload automation software. For enterprises, an unbeatable system for greater efficiency and cost savings. From development to orchestration and automation of all IT process flows on premise and in the cloud.
The workload automation software solutions BICsuite and schedulix give you control over your heterogeneous system environment. The demands made on today's IT infrastructures are constantly growing. The integration of all different kinds of IT subsystems and the introduction of new technologies give rise to an increasing number of complex routines and individual processes. They all need to be automated in a heterogeneous system environment.
Manual control mechanisms, rigid programming, or the use of impractical job scheduling tools, all turn this task into an insurmountable hurdle. Poor maintainability, high development overheads, together with time-intensive monitoring and troubleshooting, generate huge costs and tie up valuable resources.
Next Generation Workload Automation Software
Since 2020, the US market research institute Gartner has called the software class which represents an evolution of Enterprise Job Scheduling and workload automation software a "Service Orchestration and Automation Platform" (SOAP). The difference between SOAP systems and their predecessors is that the services and workflows of the entire company with all its dependencies can be orchestrated and automated not according to schedules, but rather on an event-driven basis within a heterogeneous system landscape.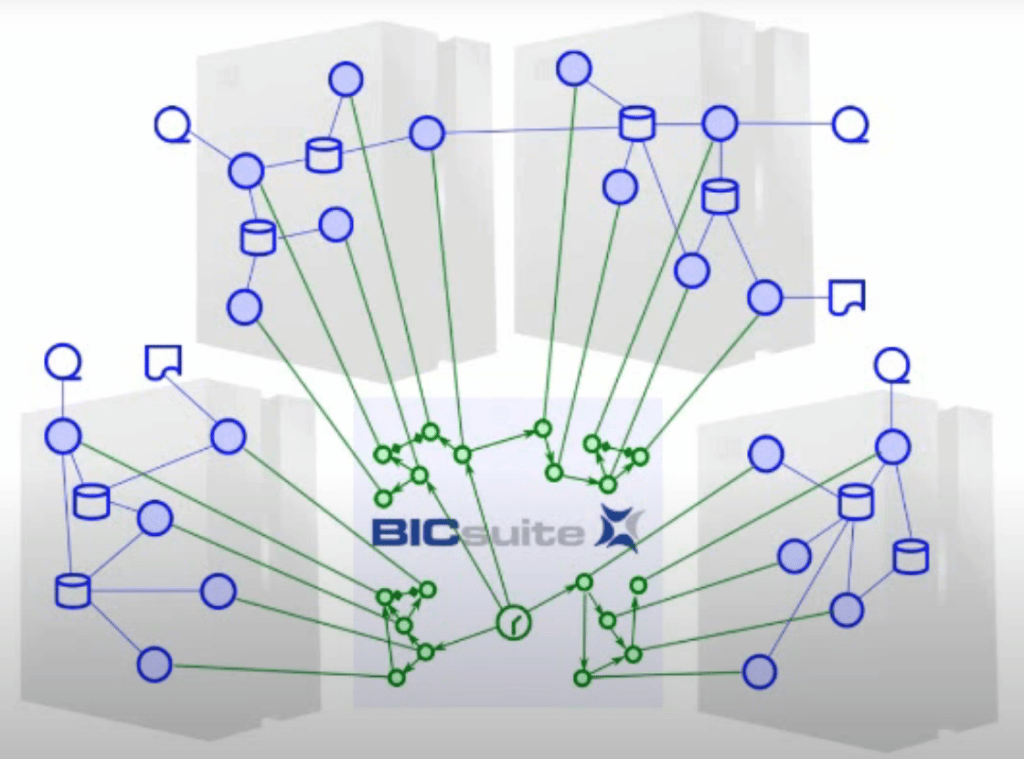 Designed and developed to meet the complex requirements of large data warehouse systems, BICsuite has been safeguarding the smooth automated operation of large-scale EDWH and business intelligence environments for over twenty years. Right from the design phase, it became evident that a traditional interpretation of Enterprise Job Scheduling could not meet the demanding requirements of modern IT operations. This resulted in a system that back then was already far ahead of its time.
With the revolutionary concepts developed at the time, with BICsuite independIT had already accomplished the evolution of Enterprise Job Scheduling and IT workload automation systems in the direction of a Service Orchestration and Automation Platform (SOAP) 20 years ago. The BICsuite platform has been continuously developed ever since, and has been able to meet the challenges of a modern IT operation in every area.
With BICsuite, the user is able to define and execute complex, cross-system routines with an arbitrary number of sequential and parallel processes in a heterogeneous network. Taking into account resource utilisation and availability, dependencies and priorities, BICsuite starts all the programs required to run these workflows as timely as possible. Centralised monitoring and controlling of the overall system mean that with BICsuite you will always have all of your processes well under control.
With BICsuite you can continue developing and adapt your systems whenever required, and in doing so sustainably lower your costs and always keep them under control. The high degree of scalability and flexibility ensures that the solution can be profitably deployed at every phase of projects of all sizes.
To complement the software, independIT offers a complete package of services ranging from planning, installation and training through to full care of your IT system including near time troubleshooting.
---
The main highlights in detail:
---
---